Weight loss
If you are not trying to lose weight by using a certain diet or an exercise regime, you should not be losing weight dramatically in a short period of time. If you have lost 5% of your weight in 12 months or less without making any effort and keeping with your normal lifestyle, you should go to your doctor to find out the cause.
Patients with lymphoma usually lose up to 10% of their body weight in 6 months, but not all of them have such a dramatic drop in their size. This is caused by the union of various factors, including loss of appetite and the increased energy expenditure that results from the speedy multiplication of cancer cells.
To replicate and keep colonizing your organism, cancer cells need extra energy and nutrients that are taken from the bloodstream. This makes patients susceptible to nutritional problems, anemia, and weight loss.
In many cases, weight loss is seen as another way to know how aggressive cancer is because the more weight patients lose, the more aggressive cancer is, and their prognosis is worse.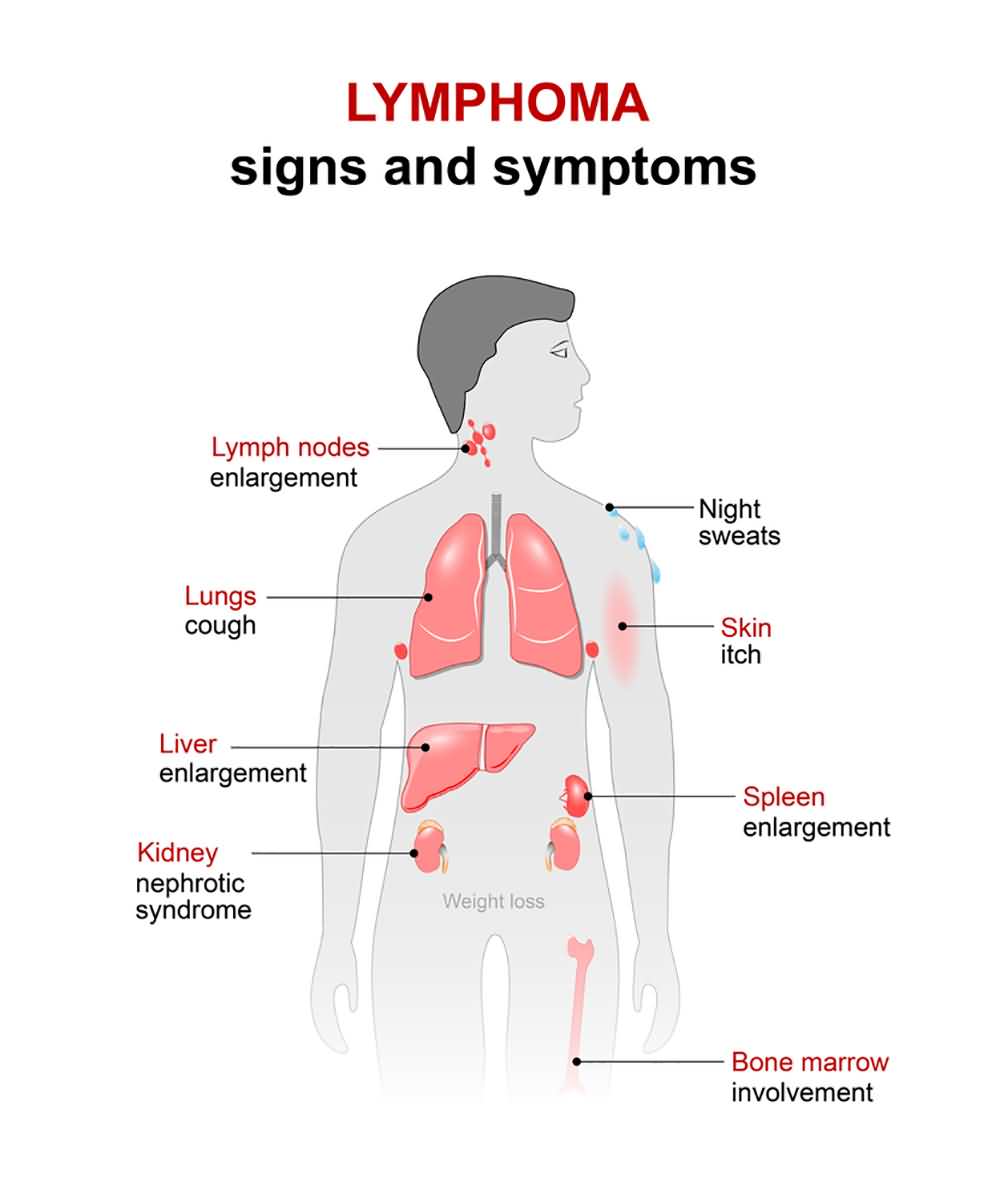 Receiving the news and even suspecting the diagnosis of cancer can be emotionally overwhelming and patients may even need professional health to cope with the disease. However, keep in mind that lymphoma symptoms usually improve after starting your treatment.
If you have noticed one of these symptoms in yourself, you might need to rule out several diseases before thinking about lymphoma. That is not the case if you have most of them or all. In any case, if you are curious or worried about something that doesn't seem normal, ask your doctor, and clear your doubts right away. In most cases, a delayed diagnosis is caused by the asymptomatic nature of cancer, and starting an early treatment will help you recover faster and cope with this and any other disease you may be diagnosed with.
References
Khleif, S. N., Rixe, O., & Skeel, R. (2016). Skeel's Handbook of cancer therapy. Lippincott Williams & Wilkins.
Cheson, B. D., Fisher, R. I., Barrington, S. F., Cavalli, F., Schwartz, L. H., Zucca, E., & Lister, T. A. (2014). Recommendations for initial evaluation, staging, and response assessment of Hodgkin and non-Hodgkin lymphoma: the Lugano classification. Journal of clinical oncology, 32(27), 3059.
Abraham, J., Gulley, J. L., & Allegra, C. J. (2012). The Bethesda Handbook of clinical oncology. Lippincott Williams & Wilkins.
Smith, C., Kubicka, R. A., & Thomas Jr, C. R. (1992). Non-Hodgkin lymphoma of the gastrointestinal tract. Radiographics, 12(5), 887-899.
Recht, L. D. (1991). Neurologic complications of systemic lymphoma. Neurologic clinics, 9(4), 1001-1015.